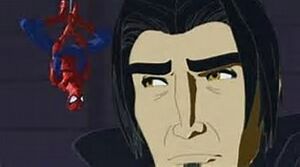 Tight Squeeze is the sixth episode of Spider-Man: The New Animated Series, released on July 18 2003. Three ex-KGB agents - now a team of mercenaries called Pterodax - take a group of people hostage, including Peter and his new crush Indy. Their demand is simple: they want Spider-Man! Peter will need to use his cunning and cleverness to figure out a way to appease Pterodax without revealing his alter ego.
Ad blocker interference detected!
Wikia is a free-to-use site that makes money from advertising. We have a modified experience for viewers using ad blockers

Wikia is not accessible if you've made further modifications. Remove the custom ad blocker rule(s) and the page will load as expected.